First Be Sure.
Then Make a Plan.
An unplanned pregnancy can be stressful. We are here to help. All of our services are free and confidential.
Pregnancy Testing & Ultrasound
A medical grade pregnancy test and an ultrasound performed by a licensed medical professional can verify pregnancy and estimate gestational age.
Options Consultation
Client Advocates and nurses are here to listen and offer accurate information about pregnancy options in a safe, confidential environment.
Abortion Pill Reversal
Have you taken the first dose of the abortion pill? (Mifeprex or RU-486) If you regret this decision, you may still have time to reverse the effects and continue the pregnancy. It is your choice to change your mind.
Prenatal & Parenting Rewards Program
You can be a confident parent! Our Hope Program offers parenting education, mentorship and free baby items.
3407 Lancaster Pike
Wilmington, DE 19805
302.998.9000
Monday, Wednesday, Thursday: 9 AM – 4 PM
Tuesday: 9:00 AM – 8:00 PM
Evenings by appointment only.
Appointments are strongly encouraged.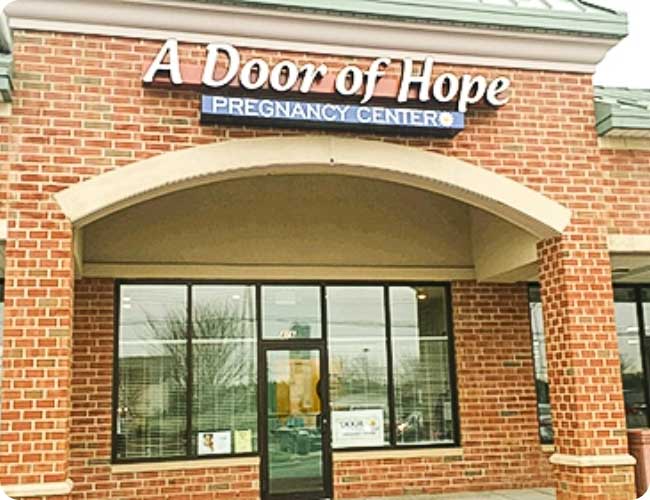 316 East Main Street
Middletown, DE 19709
302.394.9500
Monday – Thursday: 9 AM – 4 PM
Appointments are strongly encouraged.
Get in Touch.
Have questions? We'd love to help! Contact us today!
About Us.
A Door of Hope Pregnancy Center opened its doors in 1981.
In a spirit of concern and compassion, we have been faithfully serving women and men who are making decisions about their pregnancy.
Latest News and Resources.
Marijuana is becoming legal in many places and use among pregnant women is more and more common.  But as with most substances, there are
Click below to view the Annual Report
WIC – Women Infants Children Nutrition Program WIC provides help to infants, children under age 5, and women who are pregnant, breastfeeding, or who
Delaware Social Services Applying for Medicaid – Delaware Social Services (DSS) has units throughout the state that determine eligibility for Delaware's Temporary Assistance for
Intake process is usually through 211* Delaware Low Income Housing Apartments Find low income apartments in Delaware along with non-profit organizations that help with
Deep Roots at Clairvaux Farm Deep Roots is a 20-acre facility with up to 12 apartments available for families with children who are experiencing
Delaware Helpline In state dial 211 Or call toll free (800) 560-3372 or text your Zip Code to 898-211. Referral service for food, housing,
A Door of Hope Pregnancy Center is a Christ-centered, non-profit organization that empowers people to make life-affirming and healthy decisions, particularly about sex, pregnancy and relationships.